Gluten and sugar free
Soup from the glass – perfect for the office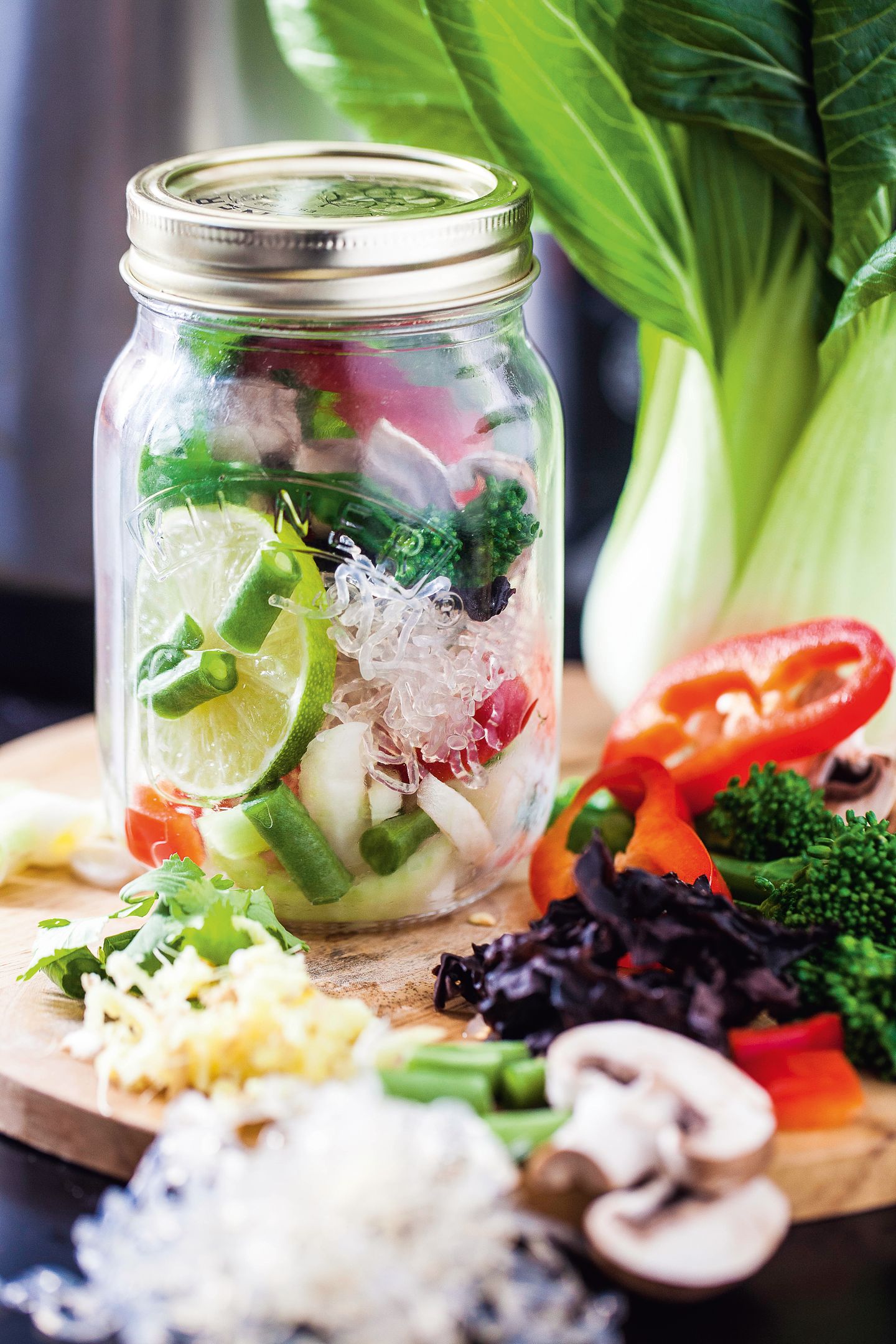 You don't always want to eat sandwiches in the office? Thank you. Prepare a quick hot lunch dish in five minutes with this spectacular crispy vegetable soup.
A glass full of healthy indulgence and a quick hot meal for the office lunch break, no need for a microwave. This delicious soup will take you no more than 10 minutes before work. Simply put last night's vegetables, shredded chicken or cooked quinoa in a hot pot. Whether vegetarian, with fish or meat: You only have to wait 5 minutes in the office: Pour boiling water over your soup – and the spectacular soup from the glass is ready to enjoy.
Recipe for vegetable soup from the jar:

Ingredients for 1 person:
35 g fuk noodles (noodle-shaped seaweed)
1 pinch dried dulse or other seaweed
1/2 tablespoon freshly grated ginger – organic, unpeeled
1 tablespoon chopped coriander or chopped mint
1 squeeze of lemon or lime juice
2 teaspoons unpasteurized misopaste
steamed vegetables such as green beans, broccoli and cabbage; and raw vegetables such as mushrooms, peppers, bokchoy, green onions, carrots and pumpkins, sliced ​​or grated.
Preparation:
Rinse and drain the kelp noodles.
Pour the remaining ingredients into a large hot pot.
Boil the water and let it cool for a few minutes. Pour into the glass with the ingredients within 2 cm of the edge. Stir and let stand for 5 minutes with the lid loose. Move again and enjoy.